Over the past month, UK government ministers have repeatedly stressed that UK troops would be unlikely to take part in action within Ukraine.
And speaking to the BBC, Mr Wallace said the UK was going to "hold the line" but had "done the next best thing, which is to train more than 20,000 Ukrainians, provided them with lethal capabilities, which they are using right now".
Armed Forces Minister James Heappey told the House of Commons on Friday that further troops were being sent to Estonia earlier than planned to help the Nato ally. A total of 1,000 troops are on standby to help Ukraine's neighbouring countries handle refugees fleeing Ukraine.
Echoing Mr Wallace, he said "British and Nato troops should not [and] must not play an active role" and that any miscalculation could escalate quickly.
"The 1,000 troops that are on standby are there to support Hungary, Slovakia, Romania and Poland with the expected humanitarian challenges that they will face as people make their way out of Ukraine," Mr Heappey told MPs.
Prime Minister Boris Johnson spoke to Ukrainian President Volodymyr Zelensky on Friday morning, pledging more support in coming days.
Mr Zelensky said Ukraine "needs the support of partners more than ever" and called for stronger sanctions.
Kyiv was hit by blasts overnight and tanks have been filmed entering the city for the first time.
Fighting has also been raging at an airfield on Kyiv's outskirts and there have been reports of gunfire inside the city.
Mr Zelensky has appealed to Russia for a ceasefire and said 137 citizens – soldiers and civilians – died on Thursday.
Meanwhile, UN estimates suggested more than 100,000 people have already fled from their homes in Ukraine. Overnight, at least 1,000 Ukrainians arrived by train in Poland's south-eastern city of Przemysl alone.
Mr Wallace warned Russian President Vladimir Putin would not stop after invading Ukraine.
But he said the decision not to "put British service personnel in direct fighting" was not about risk.
The defence secretary said: "I'm not putting British troops directly to fight Russian troops. That would trigger a European war because we are a Nato country and Russia would therefore be attacking Nato."
He said while this was something he could not and would not do – he would "help Ukraine fight every street with every piece of equipment we can get to them, and we will support them".
Asked about the possibility of a no-fly zone above Russia, he replied this would mean putting "British fighter jets directly against Russian fighter jets", adding: "Nato would have to effectively declare war on Russia because that's what you would do."
He called Russia's assault a "naked, aggressive, military invasion" and said he believed diplomacy was currently "absolutely off the table".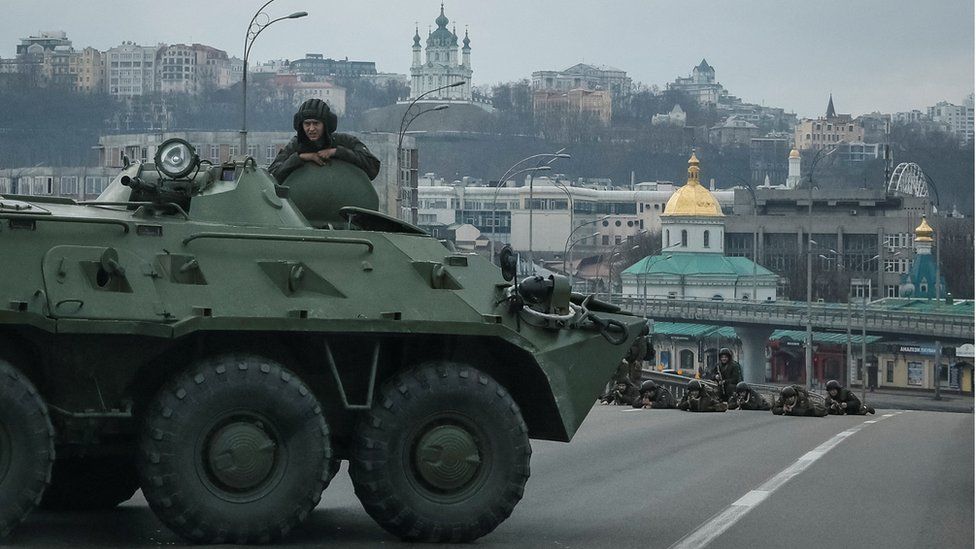 Nato – the North Atlantic Treaty Organisation – is a military alliance formed in 1949 by 12 countries, including the US, Canada, the UK and France.
Members agree to come to one another's aid in the event of an armed attack against any one member state, under Article 5. Ukraine is not a member but wants to be – it is currently a Nato partner country, meaning there is an understanding it could be allowed to join in the future.
But Russia had wanted assurances this would never be allowed to happen.
The UK has put sanctions into place targeting major Russian banks, which will be excluded from the UK financial system.
Mr Wallace said work was underway to try to get the Swift international payment system "turned off for Russia". While that is the UK aim, he said "like so many things these are international organisations, and if not every country wants them to be thrown out of the Swift system, it becomes difficult".
The prime minister is to use an extraordinary summit of leaders of Nato on Friday afternoon to press for Russia to be excluded from Swift, which allows financial transactions to be made around the world.
The UK Parliament is on standby to be recalled over the weekend as "further measures" and "further sanctions" are needed, Speaker Sir Lindsay Hoyle said.
In other developments on Friday, British airlines have been banned from travelling across Russian airspace or landing at its airports. It follows the UK decision to ban Russian airline Aeroflot from landing in the UK.